Welcome to our home's decorations. Since my children are 4 and 2 I stick with child friendly decorations and since we don't have a surplus of money I don't spend a lot on decorations. We may not have the most
extravagant
looking house during Christmas time it is a lot of fun!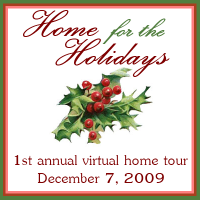 At our front door we have a little sign I made with my
Cricut
Machine (which is how I do a lot of my decorating). Also, the most fun thing here it the Origami Wreath my husband made. He is very talented, as you can see.
Our tree is looking a little bare currently because most of the decorations that go on it will be made by our children and I throughout the month. The star on top is an origami one done by my husband. We give each child an ornament each year and sometimes we get them as gifts, otherwise everything on our tree is handmade.
I made the Santa and Reindeer in the shadows with my
Cricut
Machine as well. Our nativity set is the Little People Nativity Set. It is great because my kids can play with it and I don't have to worry about any of the pieces breaking.
Our stockings were made by my mother-in-law. Aren't they awesome?
We also have snowflakes hanging in our window to make it feel
wintry
.
This is a Christmas Advent I made to do with my boys. You can find out more about it
here
.
Here is another advent that my mother-in-law made for my boys this year. It has a present to unwrap each day until Christmas.
This wall is also looking a bit bare. This is where I will be hanging up art and craft projects throughout the month.